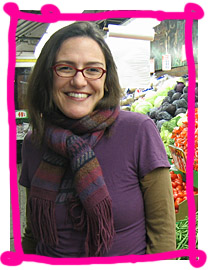 Zora O'Neill
Zora has been in the kitchen since she was 3, and she has the bacon-fat burns to prove it. But she really taught herself to cook while she was getting a Master's in Arabic literature--and that skill has proved far more useful in the long run.
Since 2000, Zora has lived in New York City, always with food on her mind. She has done occasional catering and line-cooking, and she ran the itinerant dinner party called Roving Gastronome. After meeting Tamara at Prune, the more settled party called Sunday Night Dinner came to be.
Zora picks up new flavors in her work as a guidebook author, having written or contributed to more than 10 titles for Rough Guides, Lonely Planet and Moon. On the road, she pays special attention to street carts, produce markets, and local culinary specialties. The finds wind up in her guidebooks, and on her table when she's back home in beautiful Astoria, Queens.
As a way of sharing the amazing survival skill that is cooking, Zora produces the podcast Cooking in Real Time. She also writes about her cooking and travels at Roving Gastronome.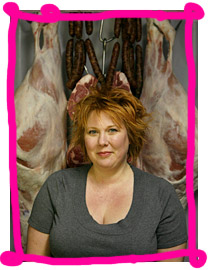 Tamara Reynolds
Tamara learned to cook because she was lonely living as a young Navy wife in a new city, and got tired of washing the dishes after dinner. After scrubbing one too many blackened pans, she thought, Jesus Christ, how hard can it be? and picked up Gourmet magazine. Along the way, she managed to teach herself to cook, got a divorce and moved to NYC.
She arrived in the city with some Calphalon pans, a few good knives, a Kitchen Aid and boxes of opera scores; she planned to be an opera singer. Thank God that didn't happen — if it had, she might not have needed to pay the rent by working as a server for Union Pacific, Babbo, Atlas, Fressen and Prune, where she met Zora.
Tamara sings when she is drunk, travels when she can, and tells stories for The Moth when she is lucky enough to be asked. She lives in Astoria and likes to act as if she lives in a small town in the Midwest. She knows her butchers, produce dudes and fishmongers, and spends a lot of time in the mom-and-pop businesses in her neighborhood. She freelances as a wine consultant, continues to run Sunday Night Dinner and her own small catering company, One Ass Kitchen Productions, for which she hires her many multitalented friends to work for her. You can see her successes and failures at The Sunday Night Dinner.